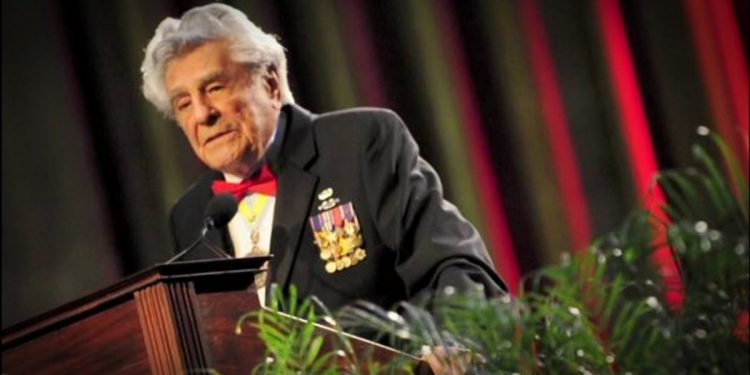 Last week, I had the honor of sitting one seat away from a true American hero, James "Maggie" Megellas. For those who don't know, he is the most decorated officer in the history of the 82nd Airborne. And with the storied history of the 82nd, that is saying quite a lot. He received, among other medals and awards, a Distinguished Service Cross, a Silver Star, and a nomination for the Medal of Honor. And apparently, the only reason he did not receive the latter was because his entire story was never submitted to the powers that be in the decision making process. More on that in a moment. But hopefully, President Trump will see his way clear to giving "Maggie" the one medal he does not own, but sorely deserves!
By the way, for those who don't know his story, James "Maggie" Megellas' life story was made into a movie that you really should see. It's called "Maggie's War."
At any rate, this is how I met this great man. Because I fly a ton of miles doing all of my speaking engagements around the world, I often get bumped up to first-class and this was one of those flights. I was heading to Milwaukee to speak at two separate events, and it just so happened that Mr. Megellas was also heading to Milwaukee to celebrate is 101st birthday! You read that right. His 101st birthday!
Before we began boarding, the flight attendant announced over the com system that we were honored to have James "Maggie" Megellas on the flight, "the most decorated officer in the history of the 82nd airborne." Well, he immediately got a standing ovation. And then, after boarding, the pilot did a similar announcement and Maggie got another ovation. It was really beautiful to see!
The blessing I had was to be able to board with Maggie with first-class passengers. Just before boarding, I reached out to shake his hand and said, "I hope you don't mind if an old Marine shakes your hand, sir!" Maggie smiled and said, "Are you kidding me? Marines and the 82nd are blood-brothers!" And we hit it off immediately! We each sat down in our seats and began a conversation that lasted throughout the boarding process and well into a ca. 3-hour flight. I will never forget it.
James "Maggie" Megellas was commissioned as a Second Lieutenant in the U.S. Army in May of 1942 and entered into his first combat assignment as a platoon commander of Company H of the 3rd Battalion, 504th Parachute Infantry Regiment, 82nd Airborne Division. He proceeded to the mountains outside of Naples, Italy, where he was wounded for the first time and hospitalized. This would be the beginning of his amazing combat career.
To make a long story as short as I can, in October, 1943, he took part in combat "Operation Shingle." On Jan. 22, 1944, he led his platoon into the famous amphibious assault at Anzio. The 504th was hit hard at this brutal engagement and losses were heavy. Maggie was wounded a second time in the process. Due to heavy losses at Anzio, Maggie's Regiment (504th) would miss the D-Day Normandy landing, but they did parachute later into the Netherlands as part of "Operation Market Garden."
From there, Megellas took part in the crossing of the Waal River near Nijmegan, where American forces crossed the river in flimsy boats while under heavy machine gun fire. It was here that Maggie single-handedly attacked a German observation post and machine gun nest. For these actions, he was awarded the U.S. military's second-highest decoration, the Distinguished Service Cross. Then, in December 1944, the 504th was ordered into the famous "Battle of the Bulge." This battle was absolutely horrific in scope and devastation.
Impressed yet? You ought to be! And more!
But on Jan. 28, 1945, Megellas took it up another notch, if that is possible. As Maggie's platoon was advancing toward Heresiarch, Belgium (interesting name for a town, eh Catholics?), and while struggling through heavy snow and extremely cold temperatures, they happened upon 200 Germans who were advancing out of the town. Catching the Germans off guard, Maggie's platoon inflicted heavy casualties on the Germans and took many prisoners. They then proceeded on to Heresiarch to assault and take the town itself.
As they prepared to assault, a German Mark V tank took aim at their position. In an instant, Megellas ran directly at the tank and into its range of fire. He was somehow able to disable it with a single grenade masterfully placed. Then, climbing on top of the tank, he dropped another grenade down its hatch, eliminating it as a threat to his platoon. If that tank's weapons would have been brought to bear, there would have certainly been casulties to Maggie's platoon.
Maggie then led his platoon into the town, cleared it, seized it, and without a single casualty to his platoon. It was for this battle that Megellas was nominated for the Medal of Honor, but, as I said above, the account of Maggie's particular and singular efforts were not included in the report. He was still awarded the Silver Star.
Maggie would attain to the rank of Captain during the war and then to the rank of Lieutenant Colonel during his 16 years in the Army Reserves after the war, and he would write a memoir called "All the Way to Berlin: A Paratrooper at War in Europe."
I am not sure how old his lovely wife, Carole, is, but I am guessing she is five years or more younger than he is. But I was taken with how lucid and well-spoken both of them were for their advanced years.
I was also taken with this: Megellas mentioned to me that he was terribly concerned about the moral decline of our nation in these troubled times. But he also told me that he has met many of the veterans of our current wars in Iraq and Afghanistan and he told me this. "It spurs hope in me for our country, when I see these brave men, willing to sacrifice all for God and country."
James "Maggie" Megellas spurred hope in me. To me, he is the epitome of a good man, a loving man, who did great and extraordinary things because his country, and, I believe, his God called upon him to act for the common good in the midst of a horrific situation. In the midst of the most gruesome and devastating war in the history of mankind.