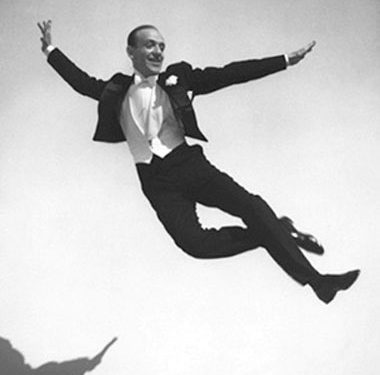 There were many great dancers in Hollywood in years long past. Gene Kelly, Donald O'Conner, Danny Kaye, the Nicholas brothers (stay tuned for my next blog post that will feature these amazing brothers), Cyd Charisse, Ginger Rogers, Eleanor Powell, Ann Miller, Vera-Ellen, just to name a few, but in my opinion, no one had the entire package to compare with Fred Astaire. The man had grace, elegance, incredible rhythm, timing, athleticism, and straight up dancing skills in virtually every kind of dancing known to man. He appeared to glide instead of step. I, for one, am still not convinced he was touching the floor in some of his dance sequences with Ginger Rogers!
He also had the ability to bring the very best out of each of his dancing partners. No one could touch him when it came to dancing "cheek to cheek." But his solos were even more impressive because he could get to places no man… or woman… could follow.
The man even walked cool!
At any rate, I have assembled 10 of my favorite dance scenes from Fred Astaire here for you to enjoy. But I recommend watching any and every movie Mr. Astaire was ever in… where he danced, of course!
In this first movie clip, Fred dances with the most beautiful woman to ever grace the silver screen, Rita Hayworth, in the 1941 classic, "You'll Never Get Rich." Astaire surprised folks when he wrote in his autobiography that Rita was his all-time favorite dance partner. Watch these first two clips and you'll get a good sense why.
https://www.youtube.com/watch?v=HnAOIp0BZhQ
As far as pure beauty and elegance goes, here's number 2 with Rita again, as promised. This is from "You Were Never Lovelier" (1942):
http://www.bing.com/videos/search?q=fred+astaire+rita+hayworth+you+were+never+lovelier+youtube&view=detail&mid=90126B3A2E894FC1763E90126B3A2E894FC1763E&FORM=VIRE7
For number 3, take a look at this scene with the absolutely stunning and ridiculously talented Ginger Rogers, from my favorite Astaire/Rogers movie, "Swing Time" (1936). This is one of the all-time great couples dances. Jumping over fences without missing a beat? No big deal. Not for these two, anyway!:
https://www.youtube.com/watch?v=ecDbvruM6a4
My fourth pick is from another Astaire/Rogers movie, "Shall We Dance" (1937). This is his famous "engine room" dance. Fred dances alone in this one. Try and count the number of spins Astaire does… I dare ya'! And tell me if you are not exhausted after just watching this incredible sequence! Keep in mind that Astaire took more than 40 takes for this scene! I think it was 46, as I recall! He was a perfectionist!
The least he could have done was to have broken a sweat, am I right?
Keep in mind as you watch this my fifth clip from "Easter Parade" (1948), starring Fred Astaire and Judy Garland, that Mr. Astaire came out of retirement to do it. Gene Kelly was originally cast for the movie, but was unable to shoot it due to an injury. Many wondered if Astaire would be up to the task at 49 years of age. And on top of that, many feared a romance between a man the age of Fred Astaire and the much-younger Judy Garland would lack credibility.
Needless to say Fred Astaire astounded as he always did. In this scene, he's trying to get this young boy to give up an Easter bunny that Fred had his eye on for his girl. Note the incredible rhythm and timing in this scene. Not many people know that Astaire was a professional drummer from way back in his early years of performing with his sister Adele. He puts it to good use here along with an incredible combination of dance, drums, twirling both drum sticks and a cane, and, well, you'll see:
https://www.youtube.com/watch?v=EHdiekk00Uk
My sixth clip is from one of Astaire's most famous movies: "Top Hat" (1935). The song is "Isn't This a Lovely Day (To Be Caught in the Rain)." You'll notice here what is common to many of Astaire's dance scenes. His dancing tells the story better than words. Notice the reluctant and even a touch angry Ginger Rogers, who to this point wanted nothing to do with Fred, is wooed throughout the song and dance until the end finds them all but tying the knot. They get closer, move away, closer, and then move away again. They never actually touch until about 3:40 into the dance. Very cool.
https://www.youtube.com/watch?v=dl6FLfHTC68
For my seventh clip consider this: It is one thing to be the best dancer in the world, but how about on roller skates! Check out this scene from "Shall We Dance" (1937) where Astaire and Rogers dance on roller skates like, well, they're not on roller skates! Set to the major hit "Let's Call the Whole Thing Off," you've got to see it to believe it:
On roller skates, people!
https://www.youtube.com/watch?v=LOILZ_D3aRg
For clips 8 and 9, I'm going to take two scenes from the classic Christmas movie: "Holiday Inn" (1942), starring Fred, Bing Crosby, Marjorie Reynolds, and Virginia Dale. In my #8, Fred's character, "Ted Hanover," is drunk as a skunk on New Year's Eve and dances with "Linda Mason," played by Marjorie Reynolds. To say he nails it is an understatement. And check out his final fall when he passes out at the end of the dance. Talk about selling out totally for a part! If they didn't have some serious padding on the floor there, I'm betting Fred had a headache the next day… and not from drinking!
http://www.dailymotion.com/video/xwcgja_holiday-inn-drunk-fred-astaire-film-cip_shortfilms
For #9, "Ted Hanover" has to improvise his 4th of July dance sequence when "Linda Mason" doesn't show. Another aspect of Astaire's mastery comes to the fore when you see how his tapping becomes an integral part of the musical score itself. His taps complete the music.
http://www.dailymotion.com/video/x4suc1_fred-astaire-in-holiday-inn_music
And finally, it was between "Top Hat," and "Puttin' on the Ritz." Puttin' on the Ritz won by a coin toss:
Yes, folks, Fred Astaire, was and is simply the best!