What a Conference! "OneFaithExperience!"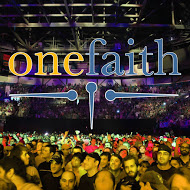 I have to say this was one of the most enjoyable conferences I've been to in a long time. The April 23rd "OneFaithExperience" was a conference extraordinaire!
It was wonderful to see so many of my friends (Fr. Larry Richards, Deacon Harold Burke-Sivers, Hector Molina, Teresa Tomeo, Jerry Usher, and more), and to make new friends like Adam Blai, the incredible "Demonologist!"
Check out this article to get a sense of what we experienced:
http://stlouisreview.com/article/2016-04-28/one-faith-one-day-one
My thanks to all of the folks at "OneFaithExperience" who made this possible!