One Faith Experience Video: Check It Out!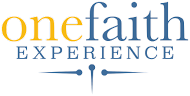 Folks, the conference ("One Faith Experience") at St. Louis University, St. Louis, Missouri, is just two days away and there are still plenty of tickets left. There are going to be thousands there, six speakers (Yours Truly, Fr. Larry Richards, Teresa Tomeo, Deacon Harold Burke-Sivers, Hector Molina, and Adam Blai, along with two bands, which includes "The Thirsting" and the inimitable "Matt Maher!" This thing is going to rock! Check out:
www.onefaithexperience.com
And you have to check out this video:
See you there!